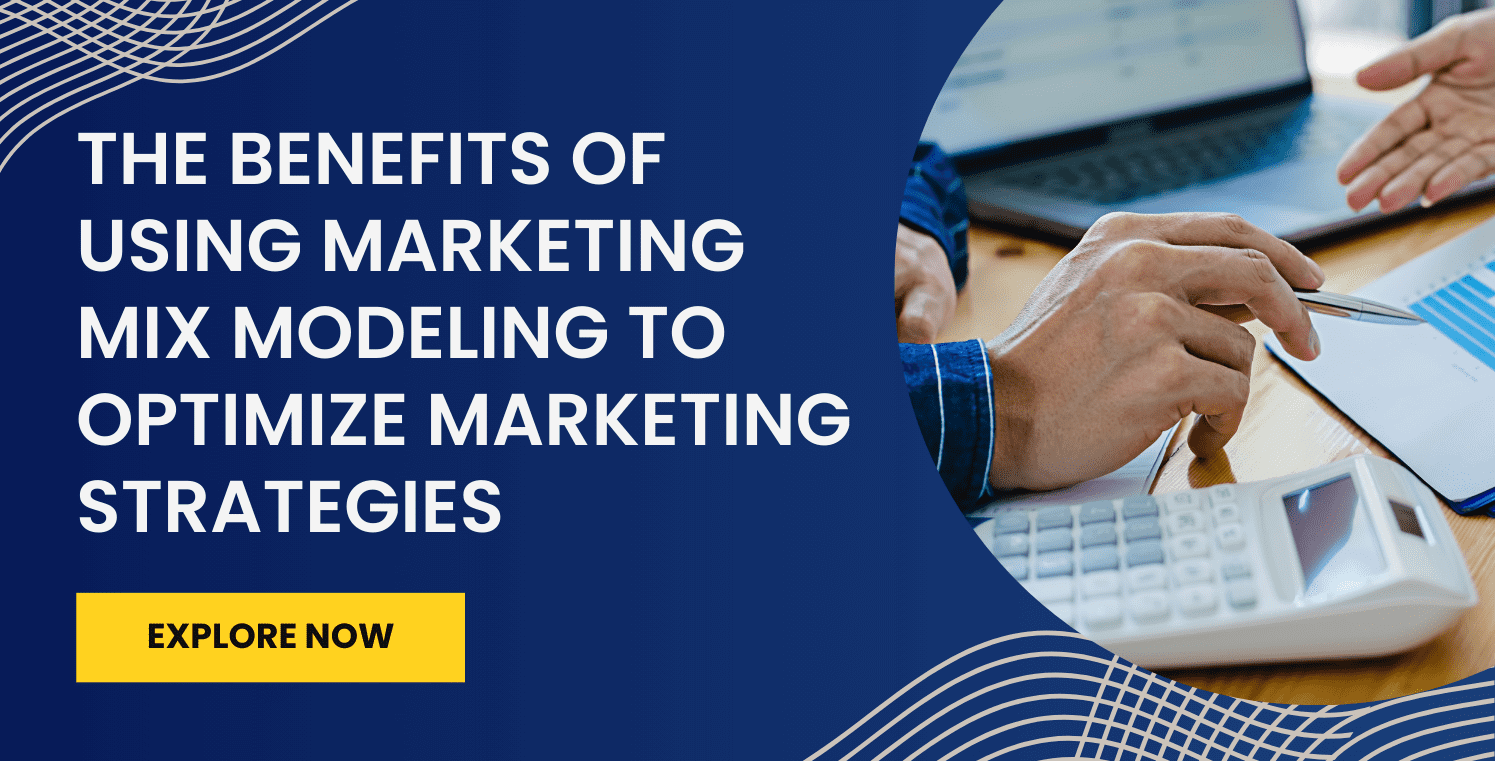 Marketing mix modeling has long been used by companies to assess the return on their marketing investments. First popularised by large multinational Consumer Packaged Goods (CPG) firms in the early 90s, it takes an in-depth view into the relationship between spending on marketing activities and overall business performance.
Measuring the effectiveness of various marketing elements such as television advertising, print advertising, digital marketing trade promotions, etc.
What is Marketing Mix Modeling?
Media Mix Modeling, also known as MMM, is a tool that helps brands measure the impact of marketing activities or inputs on key performance indicators (KPIs) such as volume, marketing spend, revenue, or profit. Marketing Mix Modeling also offers data-driven actionable insights to assist companies in meeting future sales goals while helping determine optimal budget allocation across advertising campaigns or channels according to contribution to sales.
MMM model marketing allows companies to optimize all elements of a marketing mix, including pricing, promotions, and product, in order to determine its optimal configuration. Furthermore, marketing mix modeling helps businesses determine which factors have an effect on sales; specifically, media and marketing drivers impact weather-related holidays, competitor activity as well as GDP, unemployment inflation, purchasing power, and macro drivers are considered in marketing mix modeling's analysis for sales and KPIs.
Marketing mix modeling helps businesses make smarter business decisions by comparing tradeoffs among marketing mix elements. It aims to determine each element's relative contribution to the overall performance of a company and thus helps identify which components are essential for overall success.
Why utilize marketing mix modeling?
Marketing Attribution (MA) has seen tremendous growth with the expansion of digital marketing and businesses that place priority on it, where customers' journeys take place predominantly online. MMM and Marketing Attribution co-existed side by side; however, one tool would typically dominate depending on industry type.
MMM Market Mix Model provides a privacy-safe solution unaffected by recent privacy changes like GDPR or Apple's restrictions regarding IFDA for iOS devices. Automated marketing mix modeling helps with budget planning by taking into account both external and internal factors. CMOs especially benefit from using Market Mix Modeling's 360° perspective of marketing trends – giving them an invaluable view.
NextBrain's SaaS allows for effective ROI measurement without the constraints posed by traditional Model Management Metrics, such as needing external consultants for time and resource allocations, as well as a lack of transparency regarding modeling process transparency and high costs associated with traditional MMM. Instead, brands can run predictive analytics on demand with scale and speed matching their business objectives – no need for external consultants!

Marketing Mix Components
Here is an overview of the basic elements required for building an effective marketing mix model.
Base Sales – The basis sales of any product are driven by various economic forces, including trends, pricing, and seasonality. Qualitative factors like brand recognition or loyalty may also have an effect on these numbers.
Incremental Sales – These refer to additional sales produced through promotional activities and campaigns on various media. Their total value can be measured using marketing mix modeling optimization.
Base Volume and Incremental Volume – This refers to the total volume generated from marketing activities.
Media and Advertising – Measuring the actual impact of marketing initiatives on sales by measuring how many people saw an ad, clicked it, or visited web pages offering promotional offers – providing a thorough picture of marketing effectiveness.
Promotions Trade – Trade promotion is a crucial part of any marketing strategy. Their primary function is to quickly increase sales by using promotion schemes.
Pricing – An increase in product pricing can have a devastating impact on sales. Marketing mix modeling optimization provides insight into price elasticity – used to calculate the percentage change – giving marketers and decision-makers insight into making effective informed decisions on pricing.
Distribution – Utilizing a Marketing Mix model can assist with assessing percentage changes to the depth and breadth of distribution in each channel.
Launches – Existing variables within the MMM Model are designed to capture any additional volume generated during product launches, while special variables are utilized in order to evaluate their incremental impact.
Competiton – Variables are created to measure the impact of brand sales on competition. Automated marketing mix modeling uses cross-promotional and cross-price elasticities for effective response from competitive strategies.
Building A Marketing Mix Model
SaaS can bring many advantages to your brand when used to model its marketing mix (MMM). The first step of creating an MMM Marketing Mix Model should be clearly setting goals, whether that is budgeting, campaign planning, product pricing, or even assessing competition.
Next, align your organization in terms of the Modeling of Marketing Mix. To do so effectively, gather data from different departments or systems; once compliance between teams has been secured, determine the amount of data relevant to your goals – don't get stuck in an endless sea of irregular data that's repetitive, contains errors, or lacks information!
Marketing Mix Modeling's final step requires understanding your access limitations and data analysis requirements, including any extra permissions needed for certain platforms.
The Working Of A Marketing Mix Model MMM
Businesses can improve sales and revenue with marketing mix modeling (MMM). Every MMM model aims to balance four elements of business – product, place, price, and promotion – into an optimized marketing mix model. MMM analyzes data gathered through different online and offline channels of their MMM in order to arrive at its results.
Marketers may take into account factors like traditional channels, promotions, and seasonality when calculating MMM. Once collected, data has been subjected to advanced statistical analysis and Artificial Intelligence for insight, which can then be used to gauge how effective current marketing campaigns are.
Marketing mix modeling can be used to measure the effect of campaigns using metrics and variables such as sales, ratings, and online analytics, and linear/nonlinear variables such as advertising, PR, pricing, or sponsorship activities.
Marketing Mix Modeling Can Benefit Businesses – Here Are Its Advantages
Marketing mix modeling vendors rely on advanced methods, like multivariate regression or linear regression, to predict the effects of marketing on sales. Marketers can use this insight to refine cross-channel campaigns for optimal engagement and sales performance; automated marketing mix modeling eliminates guesswork through data-driven analysis.
Here are the key advantages of marketing mix modeling:
Marketing initiatives must demonstrate their return on investment (ROI). By correlating data insights with each campaign's success factors, brands can better grasp its impact and demonstrate ROI.
MMM allows organizations to quickly gather insights with its Do-It-Yourself option, providing valuable budget optimization recommendations in marketing or sales departments.
Marketing mix modeling enables accurate future revenue predictions by looking back over past sales or marketing efforts and applying MMM.
Understanding past data and trends – Traditional campaigns often neglect this valuable data, while understanding negative marketing efforts is crucial in learning from their mistakes and taking appropriate measures to rectify them.
Businesses will gain a better understanding of which marketing channel performance is for their brand and can allocate their spending according to that knowledge for maximum returns. Furthermore, knowing their target markets in order to avoid saturation of an advertisement campaign.
Getting Started with MMM Marketing Mix Models
MMM models help businesses understand the effect of changes to their marketing strategies on sales and profit. Optimization of Marketing Mix Modeling begins by setting goals. Next, data for analyzing the marketing mix are collected.
Marketing Mix Modeling, commonly used by more traditional brands with higher offline spending, can offer digital advertisers a broader market perspective and optimize marketing allocation across various offline and digital advertising channels for maximum marketing ROI. Modern MMM Software gives marketers this unified view and helps optimize allocation on various channels while increasing return on investment (ROI).
Modeling the Marketing Mix involves using predictive modeling to quantify the effect that different marketing activities have on any Key Performance Indicator, such as sales, revenue, number of customers, or installs. With these insights at their disposal, companies can allocate marketing budgets more efficiently in order to maximize return on investment (ROI).
Industry of operation plays a key role in selecting Marketing Mix Modeling platforms as measurement methods. Digital native advertisers tend to favor Attribution for its speed and granularity, while traditional or Omnichannel Marketers appreciate the accuracy and wider perspective offered by Marketing Mix Modeling platforms.
Digital advertisers now have access to cutting-edge marketing mix modeling platforms for digital ads that combine the benefits of both measurement approaches. Through future-proof stacks of measurement, they can combine the strengths of marketing mix modeling with standard measurement approaches for more comprehensive measurements.
How do organizations utilize marketing mix modeling?
Around the beginning of the 1990s, large multinational companies started using marketing mix modeling. This technique provides an analysis of business performance vs. marketing expenditure history.
Marketing mix modeling SaaS allows businesses to assess the effectiveness of various advertising activities such as TV commercials, digital ads, print advertisements, price discounts, and trade promotions in real-time. With this information at their fingertips, companies are better able to make informed decisions that are data-driven.
Marketing Mix Modeling platforms initially only saw use by Tier 1 brands or companies with substantial marketing budgets, mainly due to a lack of awareness and false perception that it was time-consuming and difficult. Now, however, marketing mix modeling is being adopted by companies of all sizes; MMM solutions may especially prove useful in industries with heavy marketing requirements like retailing, pharmaceuticals, and financial services.
Marketing mix modeling platforms developed recently are user-friendly and faster to deploy for both Tier 2 and Tier 3 companies, as well as "always on," providing continuous monitoring of marketing performance along with real-time insights into performance metrics.

NextBrain's MMM marketing mix models enable companies to log in, assess marketing campaigns, and update models quickly based on new data. With real-time insights on demand and real-time ROI calculations, companies can maximize their marketing investment on the move and maximize Return on Marketing Investment (ROMI).
Analytics firms today are harnessing automation and technology to boost marketing mix modeling. As more Tier 2 and 3 companies become aware of its benefits and understand its potential, more platforms for Marketing Mix Modeling may become available for adoption.
Marketing Mix Modeling Trends
Marketing mix modeling utilizes cutting-edge technologies such as Artificial Intelligence (AI) or no code Machine Learning (ML) to ensure data quality by detecting outliers and incorrect entries in large data sets, running multiple iterations runs, and quickly building accurate models based on recent information. Computing power is utilized for crunching large amounts of data quickly while building accurate models based on updated information quickly.
Automated marketing mix modeling platforms use tools like Natural Language Processing for insights and reports, with user-friendly interfaces and intuitive tools, making marketing modeling available in-house without the need for third-party providers of marketing mix modeling services.
Recent years have witnessed an explosion of data sources and marketing channels. Furthermore, changes to corporate policies and privacy regulations, as well as GDPR, have had a considerable effect on data privacy practices. Multi-Touch Attribution was once required, but now companies need to look at alternative data sources in order to meet GDPR compliance.
Marketers increasingly utilize Market Mix Modeling due to its comprehensive and holistic perspective that it affords in optimizing marketing allocations.