* Please contact us for custom services
** Payments will be done using Stripe system
Marketing Mix Modeling Plugin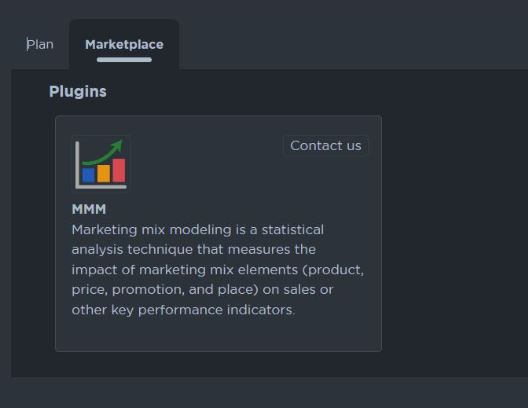 For more product information
click here
the MMM plugin is priced extra. Please contact us for more information.
Extra support
1 hour package
200€ / hour
5 hour package
175€ / hour
10 hour package
150€ / hour
F.A.Q
We use AWS (Amazon web services) with the highest security standards, data and Web are different in locations (currently it is in US but you can ask to have it located anywhere you want).
Regarding GPT you can use your own API, or you can use our Microsoft Azure located in Western Europe.
This option has been requested several times we understand your needs so basically contact us and will give you a solution so we can host a white label version whatever you want.
Data scientist who will be at your disposal to help you with various tasks, such as creating an AI model, cleaning data, merging multiple data sources, conducting a data science audit, or providing advice on AI and industry best practices.
Think of them as an extension of your team – you can add them to your Google Meet, or instant messaging, and book a call with them anytime. Essentially, it's like having a data scientist on your team without any additional cost or overhead!
APIs allow you to export your predictions to various platforms, including your own app, internal tools, websites, and more. They provide a means of displaying your predictions beyond your account.
Each time you submit a row or record to your ML model and it produces a result, it is considered as one prediction. For instance, if you submit a single record through an API and receive a result, it is counted as one prediction. Similarly, if you upload a CSV file containing 100 rows of data and generate prediction results for each row, it is counted as 100 predictions.